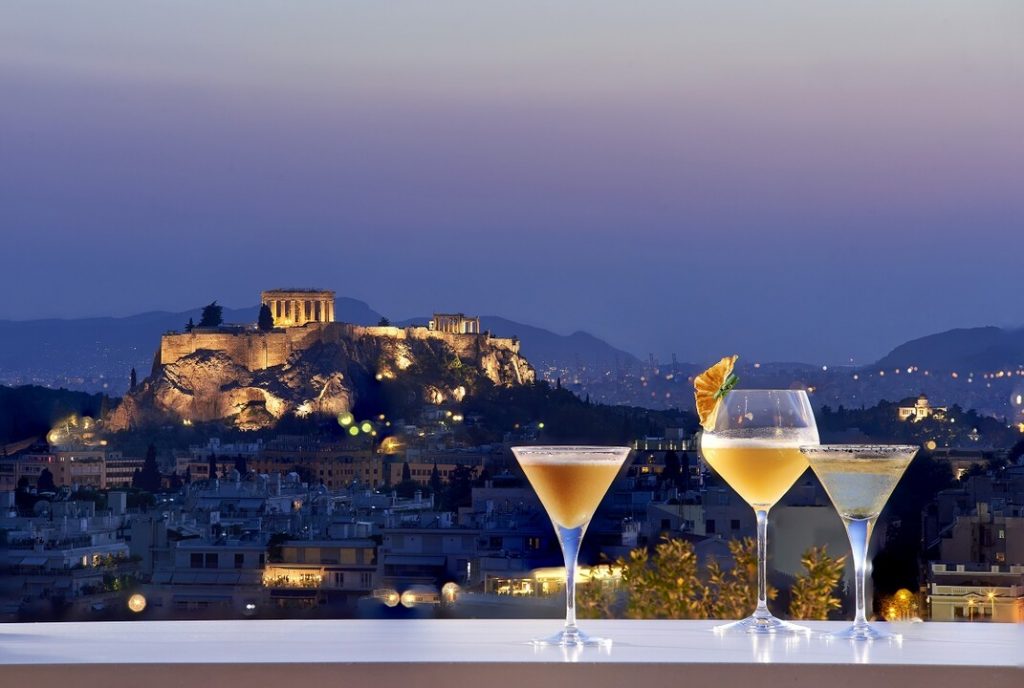 Hilton Athens opened its doors in 1963 as the first unit of an international hotel chain in Greece, contributing toward establishing Athens as a leading travel destination, offering unforgettable hospitality experiences to visitors from all over the world. This has been well established by the research for a new destination comprising a luxury hospitality and residential offering made by the Ionian Hotel Enterprises one year ago. Ionian Hotel Enterprises S.A. is one of the leading companies in tourism, hospitality and asset management in Greece. The research highlighted Hilton as the essential element for the identity of the new destination resulting in an agreement for a new hotel and residences to be developed by Ionian Hotel Enterprises in the Greek capital.
On 14th of December 2021, Hilton and Ionian Hotel Enterprises announced the signing of the agreement which will introduce Hilton's luxury brands – Conrad Hotels & Resorts, Conrad Residences and Waldorf Astoria Residences – to Greece. The agreement strengthens the longstanding partnership between Hilton and Ionian Hotel Enterprises, and represents a significant milestone in Hilton's 60-year legacy in the Greek capital. The agreement's scope is to transform the emblematic Hilton Athens hotel into an innovative and multipurpose destination offering high-quality hospitality, private residences, exceptional culinary, entertainment projects, and multiple other experiences to Greek and foreign visitors. As of 2024, Hilton Athens will be renamed Conrad Athens.
The new destination is a strategic investment worth more than 130 million euros by Ionian Hotel Enterprises, in additional to the initial investment of around 145 million euros spent for the purchase of the building. The new Conrad hotel will include approximately 280 stylishly appointed guest rooms and suites, approximately 50 private residences under the Conrad and Waldorf Astoria brands as well as a private lifestyle members' club, multiple several gastronomic and entertainment venues, curated shopping, leisure and wellness experiences, and, not to mention, the stunning views overlooking the ancient citadel of the Acropolis.
Such development is the illustration of the fact that recently, the tourism sector in Greece has recorded significant growth trends in the flow of foreign visitors, which has an impact, inter alia, on the income of tourism companies. This rapid growth has attracted strong investment interest from foreign and Greek business groups. This interest translates on a case-by-case basis into large-scale business plans, which include, in addition to the classic type of resort hotel, multiple uses and economic activities within the same property.
The most suitable legal tool for these investments is the Tourist Accommodation Complex legislation, a relatively new type of main tourist accommodation, which was introduced as a term in the Greek legislation for the first time in 2011, with the ultimate goal of enriching the tourism industry.
To qualify as a Tourist Accommodation Complex, a 5-star hotel, a special tourist infrastructure facility (such as spa facilities, golf course, port, sports training center, conference center, amusement theme park) and furnished residences must be combined within the same property.
The definition and conditions for the creation of tourist accommodation complex are determined in Chapter C, Article 8 of the amended Law 4002/2011 (as applicable today). Some of the special features that distinguish the Complex Tourist Accommodation from other accommodation facilities are the following:
1. The sale of up to 30% of the total built-up area is allowed.
2. The creation of divided properties, horizontal and vertical is allowed.
3. Only long-term lease is allowed (over 10 years).
4. Except for the case of pre-construction, converting existing hotels (under certain conditions) into Tourist Accommodation Complexes is also allowed.
According to Greek legislation, the licensing process of a Tourist Accommodation Complex involves the following stages:
1.    Approval of the creation of a Tourist Accommodation Complex (Joint Decision of the Ministers of Tourism and Environment & Energy)
2.    Approval of architectural studies and landscaping studies (Special Service for the Promotion and Licensing of Tourism Investments of the Ministry of Tourism)
3.    Issuance of a building license (Special Service for the Promotion and Licensing of Tourism Investments of the Ministry of Tourism)
4.    Approval of the regulation of co-ownership and operation of a Tourist Accommodation Complex (Decision of the Minister of Tourism)
5.    Notification of Operation of a Tourist Accommodation Complex.
Our office has been successfully representing high net worth individuals and companies initiating such investment projects in Greece. We are therefore confident in undertaking the whole procedure of your investment in this innovative area of Greek tourism sector, step by step.
At Amoiridis Law Services® we are dedicated at assisting our well-respected clients successfully complete any of their investment projects and real-estate purchases in Greece.  Thanks to our longstanding experience, we are able to provide a full package of consultancy services to our almost exclusively international clientele, customised to their specific needs.
As a result, we have represented clients from all around the globe regarding their projects in Greece. Our network of associate experts, composed by both in-house and external solicitors, notaries, accountants, tax experts, currency exchange experts, realtors etc., enables us to provide an all-in-one package of consultancy services, guiding you through the ways to properly protect your investments.
For any further information and clarifications please do not hesitate to contact our qualified legal team, ready to provide you with further personalized information tailored to your needs and your profile.
You can email us:  or call/text us directly at: +306908351705 (WhatsApp/Viber)
Athens, January 2022
Follow us on